Welcome message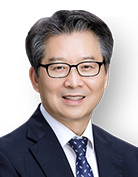 It is my great pleasure and honor to extend greetings and warm invitation to attend the 75th International Convention of the Pharmaceutical Society of Korea (PSK) in Jeonju, Republic of Korea, to be held December 20-22, 2021. I hope all are doing well in the midst of the COVID-19 pandemic, which continues to take a toll on our beloved families, communities, and nations. Due to continued challenging times, we are hosting the convention for the PSK with the theme "Challenging journey for new normal academy-industry-research convergence." This conference consists of thirty eight sessions on drug developments, including medical cannabis, herbal medicine, and cutting-edge technologies in biologics and microbiome-based pharmabiotics. This conference will bring in new ideas, the latest information, and trending topics in pharmaceutical science. This is the platform where you can share and exchange vision and mission for drug discovery and development.
The highlight of the conference will be plenary sessions by Prof. Kwang-Soo Kim from Harvard Medical School, DirectorGeneral Uhtaek Oh from KIST Brain Science Institute, and Dr. Yong Moon Choi, CEO, Bio-Pharm Solutions Co., LTD. These eminent personalities have made novel and outstanding achievements in Neurology and Bioscience. Moreover, this is the first time for the PSK conference to be hosted in Jeonju, Republic of Korea. Jeonju has a reputation for its culture and tradition and makes it the best meeting venue. I hope that in addition to participation, one can experience the culture and tradition of Jeonju, and everyone involved in organizing the event will ensure your time with us is special.
I hope the convention will present an excellent opportunity to express and gain knowledge and personal benefits to all of us as we proceed with our works towards drug development. We are excited to meet each of you and welcome you to wonderful learning and collegial experience.
Let's have a productive and successful conference.
The Pharmaceutical Society of Korea President, Jin Tae Hong